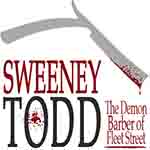 Principals
Sweeney
Mrs Lovett
Joanna
Anthony Hope
Judge Turpin
Beadle Bamford
Adolfo Pirelli
Daniel "O" Higgins
Tobias Ragg
Beggar Woman
Mr Fogg
Get your license from MTI Shows
Sweeney Todd Costumes
You can be sure when hiring from Thespis Theatrical Costumiers that you will look amazing in any of the Sweeney Todd costumes from our collection, where our quality, cleanliness and high standard of replication is second to none. We do not compromise on costume hire why should you! drop us a line or call to discuss your next show.
Our costumes for Sweeney Todd are made to reflect the periods correctly avoiding the pantomime look which has become our number one goal. Sweeney Todd: The Demon Barber of Fleet Street is a 1979 musical thriller with music and lyrics by Stephen Sondheim and book by Hugh Wheeler.It is one of the darkest musicals ever written and has one of the most intricate scores, with costumes to match the dark atmosphere that surrounds the characters of this period. Sweeney Todd is a fictional character who first appeared as the protagonist of the Victorian penny dreadful "The String of Pearls" ( 1846-147).The tale became a staple of Victorian melodrama and London urban legend, and has been retold many times since. Claims that Sweeney Todd was a historical person are strongly disputed by scholars , although possible legendary prototypes exist. In the Victorian London, the barber Benjamin Barker is married to the gorgeous Lucy and they have a lovely child, Johanna. The beauty of Lucy attracts the attention of the corrupt Judge Turpin, who falsely accuses the barber of a crime that he did not commit and abuses Lucy later after gaining custody of her. After fifteen years in exile, Benjamin returns to London under the new identity of Sweeney Todd, seeking revenge against Turpin and his accomplice Beadle Bamford. On arriving in London he meets Mrs Lovett, who owns a failing pie shop and recognises Todd as his real name Benjamin Barker. She quickly tells him his wife Lucy died at the hands of Judge Turpin, who keeps his daughter Joanna locked up as his ward, intending to marry her. As she reveals his shaving razor his arm 'feels complete again' and he sets up his barber business above Mrs Lovett's shop. Seeking revenge leads to murder, and prompted by Mrs Lovett his victims become fresh ingredients for her pies which boost sales .With this plan being successful , all Todd needs to do is try to convince the Judge to sit in his chair!
"If you're going to do it, do it right"
Costumes Hire Sweeney Todd
All of our costumes are bar-coded and come with data sheets for easy identification, they also come supplied on hangers in named garment bags saving you hours of unnecessary sorting.
We supply all items as complete costumes and marked up for the correct actors and scenes, we also adjust the garments to the correct size for each actor where applicable leaving you to concentrate on the performance.. We may hire individual costumes but we do have a minimum hire charge of £250 + Vat
Other complete shows you may like.