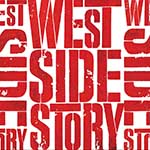 Principals
The Jets
Riff
Tony
A-Rab
Baby John
Big Deal
Diesel
Gee-Tar
Mouthpiece
Snowboy
Tiger
Anybodys
The Jets' Girls
Graziella
Velma
Minnie
Clarice
Pauline
The Sharks
Bernardo
Chino
Pepe
Indio
Luis
Anxious
Nibbles
Juano
Toro
Moose
The Sharks' Girls
Maria
Anita
Rosalia
Consuelo
Teresita
Francisca
Estella
Marguerita
The Adults
Doc
Schrank
Krupke
Glad Hand
Get your license from MTI Shows
West Side Story Costumes
Thespis is proud to offer up its award-winning costumes to bring every inch of this masterpiece to life, with such richness and splendour you will feel as though you know San Juan and Brooklyn intimately by the end of the night.
Click on image for gallery and see extra photos in right hand side gallery.
West Side Story is a musical with a book by Arthur Laurents, music by Leonard Bernstein, lyrics by Stephen Sondheim and conception and choreography by Jerome Robbins.It was inspired by William Shakespeare's play Romeo and Juliet.

West Side Story
Zooming Cadillac's, glistening skyscrapers, your own washing machine. Just some of the things hard-working Puerto Rican immigrants like Anita and Maria dream of upon their arrival to America.
However, gang violence, low paying work, and racism is the dark reality that greets them in New York's gritty underbelly.
As the gangs of both factions square up, punching for a fight to settle dominance of Brooklyn once and for all, something remarkable happens right in the middle, blind to the violence and hate around it.
Then sparks of love ignite!
And just like that, the die is cast, and these two unsuspecting lovers are thrust into the centre of the escalating conflict. Who will win out in the battle of true love? Their hearts? Or their people?
This ultimate romantic-tragedy is one that will have you laughing, crying, stomping your feet, and screaming 'Maria' from the fire escape at the top of your lungs until you find your own true love.
You can be sure when hiring from Thespis Theatrical Costumiers that you will look truly amazing in any of the West Side Story costumes from our collection, where our attention to detail, quality, cleanliness and high standard of replication is second to none.


"Thespis The Whole Show Costume Hire Specialists"
We can also quote for International delivery
Many thanks to St Albans Musical Theatre Company and Melting pot Pictures / Simon Wallace for use of the fantastic photos.
"West Side Story Costume Hire"
About us and what to expect from Thespis
All of our costumes are bar-coded and come with data sheets for easy identification, they also come supplied on hangers in named garment bags saving you hours of unnecessary sorting.
We supply all items as complete costumes and marked up for the correct actors and scenes, we also adjust the garments to the correct size for each actor where applicable leaving you to concentrate on the performance.. We may hire individual costumes but we do have a minimum hire charge of £250 + Vat