Made in Dagenham Costumes
Thespis Theatrical Costumiers have sourced many original period costumes for Made In Dagenham even the authentic Ford badges for the workers overalls! If your Rita is the right size you maybe lucky enough to find yourself wearing the original 2014 dress worn by Gemma Arterton.
You can be sure when hiring from Thespis Theatrical Costumiers that you will look amazing in any of the Made In Dagenham costumes from our collection, where our quality, cleanliness and high standard of replication is second to none.
Click on image for gallery and see extra photos in right hand side gallery.
Inspired by a true story and based on the hit movie, Made in Dagenham is the uplifting new British musical comedy about friendship, love and the importance of fighting for what is right.
Thespis Theatrical Costumiers are proud to continue to excel in bringing high quality costume hire on to the stage for this uplifting production. Made in Dagenham is set in Essex 1968. Each morning Rita O'Grady is just trying to get her husband out of bed, get the kids off to school and get to work at the factory on time. Life, however, is about to change forever when it's announced that the girls in the stitching room of Ford's Dagenham car plant will have their pay grade dropped to 'unskilled'. It's a show that blatantly condemns sexism and it shows, despite its mostly light tone, the real cost of fighting for their civil rights in the 1960s.
It is both compelling and fun to watch. Quickly drawing on a strength she never knew she had, Rita leads her friends in a battle against the might of Ford and the corruption of the Union supposed to protect them. As the girls' inspiring journey gets bigger than anyone could have imagined, the pressure is too much for some, but can Rita keep up the fight and the happy home she's worked so hard for?
Thespis are pleased to be costuming a new run of Made in Dagenham at the Adelphi Theatre London.
Costume used by the show's main character Rita O'Grady returns to the same stage 8 years later.
News from our blog: Not only is Thespis costuming a run of Made in Dagenham at the Adelphi theatre in 2022. News we are thrilled to share and be part of, but we have another special acquisition relating to the very same show, performed upon the very same stage.
Thespis has acquired into its collection a very special costume used by the show's main character Rita O'Grady, which, back in 2014, was worn by award-winning actress Gemma Arterton, who popularised the role and made it her own in the superb run at the Adelphi Theatre.
Thespis often takes on garments (coats, shirts, all sorts, you name it!) worn by the stars of stage and screen, but rarely do we get an exact piece for the exact show that will go up at the exact same theatre, and so we felt we absolutely had to share!
The costume is in fabulous condition, and it's one we are very keen to see return, not just to the Adelphi, but to stages across the UK. So who knows, you might find yourself wearing it when you next take Made in Dagenham out on hire from us!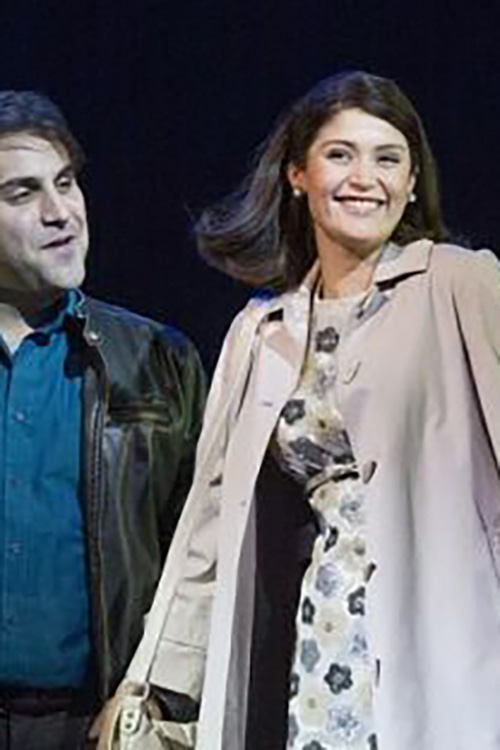 Gemma Arterton wearing the original 2014 -15 show costume for the part of Rita O'Grady
Made in Dagenham
"Let Us Dress You"
Made in Dagenham Costume Hire
About us and what to expect from Thespis
Other complete shows you may like.