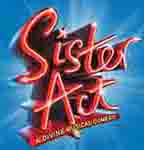 Principals
Deloris van Cartier / Sister Mary Clarence
Mother Superior
Curtis Shank
Lt. Eddie Souther
Sister Mary Robert
Sister Mary Patrick
Sister Mary Lazarus
Sister Mary Martin – of – Tours
Sister Mary Theresa
Ernie Joey
Michelle
Monsignor `o`Hara
Pablo
Tina
TJ
Get your license from MTI Shows
Sister Act Costumes
Thespis Theatrical Costumiers continue to excel in bringing high quality costume hire on to the stage. Our Sister Act costume set encompasses the very best quality, and visual effects right down to the special effect of the multi breakaway costume worn by Officer Eddie Souther (sweaty Eddie) in the dreamer's scene, often missed out with low quality productions. We can also supply the special effect for the sweat (yuk)! Even the police gun belt is a genuine item from US police department (we can also supply the stage reproduction weapons). There are five costume changes by the nuns which are fully covered from our wardrobe. Thespis Theatrical Costumiers supplies all footwear for this show including platform boots for the swing scene and transvestite size high heels for the bar scene. Your finale will sparkle as the nuns in their silver habits twinkle, the gangs prison costumes glitter and the altar boys positively shine on stage! We can costume large casts.
Click on image for gallery and see extra photos in right hand side gallery.
Building on the fantastic success of the very popular "Phantom of the Opera", these costumes are probably one of the best costume sets outside of the West End. True to the glamour and sparkling panache of the original show. The Holy order of the little sisters have never looked so good in our handmade designs.
"If you're going to do it, do it right"
Sister Act Costume Hire
About us and what to expect from Thespis
Other complete shows you may like.