The Railway Children Musical Costumes
All new for the 2022 season.
The complete costume set for The Railway Children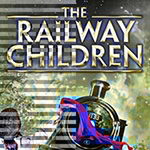 Contact us for more information on this exciting new costume set from our studios for 2022 season.
Adapting a musical from one of the most well known stories by E. Nesbit's well-loved tale of the three Victorian children sent to live in the countryside with their mother after their father has been disgraced for supposedly betraying his country's secrets is brought vividly to life in this new adaptation, losing nothing of the original spirit of humor, tension, adventure and the final triumph of good over evil. The addition of songs to the action helps to highlight in particular Bobbie's rite of passage to adulthood from "Christmas Is Here!" and "Posh Talk" to "Nothing to Fear" and "Nearly Autumn."
Contact us for more information on this exciting new costume set from our studios for 2022 season.
" Professional Costumes For Amateur Productions"
The Railway Children cast details
Father: A high-ranking civil servant, very intelligent and hard-working, and a devoted husband and father. He is wrongfully imprisoned for espionage, but is eventually exonerated.
Mother: A talented poetess and writer of children's stories. She is devoted to her family, and is always ready to help others in need. She is also a homely type.
Roberta: Nicknamed "Bobbie", she is the oldest and most mature of the three children, and the closest in personality to their mother.
Peter: The middle child and only boy. He is intelligent and resourceful, though at times rather insensitive. He considers himself the leader of the three and usually does take the lead in crisis situations.
Phyllis: The youngest and least mature of the children.
Ruth: A servant of the family, dismissed early in the story for her treatment of the children.
Mrs Viney: Housekeeper at The Three Chimneys.
Mrs Ransome: Village postmistress.
Aunt Emma: Mother's elder sister, a governess.
The Old Gentleman: A director of the Great Northern and Southern Railway (GN&SR), who befriends Bobbie, Peter and Phyllis and helps when their mother is sick. He is instrumental in freeing Father, and in locating Mr Szczepansky's family. He is the grandfather of Jim.
Albert Perks: The station porter, and a friend of the children. He enjoys their company, but his pride sometimes makes him stuffy with them. He lives with his wife and their three children. Very knowledgeable about the study of railways and other areas.
Mrs Perks: Wife of Albert Perks.
Dr Forrest: A country physician. He is rather poor, but nevertheless provides affordable care for Mother during her illness.
The Stationmaster: Perks' boss. Rather pompous at times, but has a good heart.
Bill (driver): An engine driver and friend of the children.
Jim (fireman): Bill's fireman, and a friend of the children. He arranges for one of his relatives to mend Peter's toy locomotive.
The Signalman: Operator of the railway signal box. He has a young child who is sick.
Mr Szczepansky: A dissident Russian intellectual, imprisoned in Siberia for his views, who escapes to England to seek his wife and children.
Bill (bargeman): A barge-master, initially hostile towards the children. He changes his attitude towards them after they save his boat (with his baby son Reginald Horace aboard) from burning.
Bill's Wife: She disapproves of her husband's initial attitude towards the children, and encourages them to fish in the canal while he is not around.
Jim (schoolboy): The grandson of the Old Gentleman, whom the children rescue when he breaks his leg in the railway tunnel during a paper chase.
About us and what to expect from Thespis
All of our costumes are bar-coded and come with data sheets for easy identification, they also come supplied on hangers in named garment bags saving you hours of unnecessary sorting.
We supply all items as complete costumes and marked up for the correct actors and scenes, we also adjust the garments to the correct size for each actor where applicable leaving you to concentrate on the performance.. We may hire individual costumes but we do have a minimum hire charge of £250 + Vat
Other full shows that we costume