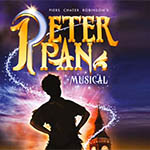 Principals
Peter Pan
Tinker Bell
Wendy Darling
John Darling
Michael Darling
Mr. George Darling
Mrs. Mary Darling
Liza, the family's maid
Jane, Wendy's daughter
The Lost Boys
Twin #1
Twin #2
Curly and Nibs
Tiger Lily
Captain James Hook
Smee
Starkey
Bill Jukes
Cecco
Noodler
Mullins
Cookson
Skylights
Get your license from ITM-Shows
Peter Pan The Musical Costumes
All new show from the Thespis studios
We've all shared in the fantasy of never growing old, eternally living our youth, foregoing all those horrid, loathsome 'adult things', and instead living a life of adventures, magic, and pirates! No doubt the hero that epitomises such a dream is J.M. Barrie's 'boy who never grew up', of course, the flying hero: Peter Pan.
[ Photos Coming Shortly ]
Photos coming soon page under construction.
Three unsuspecting children, Wendy, John and Michael, have their quaint Victorian lives turned on upside down after they are lured away from their beds one night by the mysterious, charismatic, (not to mention flying) Peter Pan, and his fairy Tinker-bell, to Neverland, a fantastical tropical island only reachable by travelling across the stars. (Second star on the right and straight on till morning if you're interested!) There they meet a whole host of colourful characters; the Lost boys, Tiger Lilly and the Indians, a ticking crocodile, and of course the dastardly Captain Hook and his pirates, who the Lost boys and Peter have been engaged with in a bitter rivalry long before the arrival of our well-mannered Victorian children.
Neverland comes to life with a deeply beautiful score, with such memorable songs as 'Distant Melody', 'Tender shepherd', and 'Never Never Land'.
If you're crying out for a little faith, trust, and Pixie dust, then this spectacular pirate-shanty-filled, swashbuckling, celebration of what it really means to be young is just the Musical to touch your heart.
Peter Pan Costume Hire