All new costume set.
Matilda The Musical

J

R

.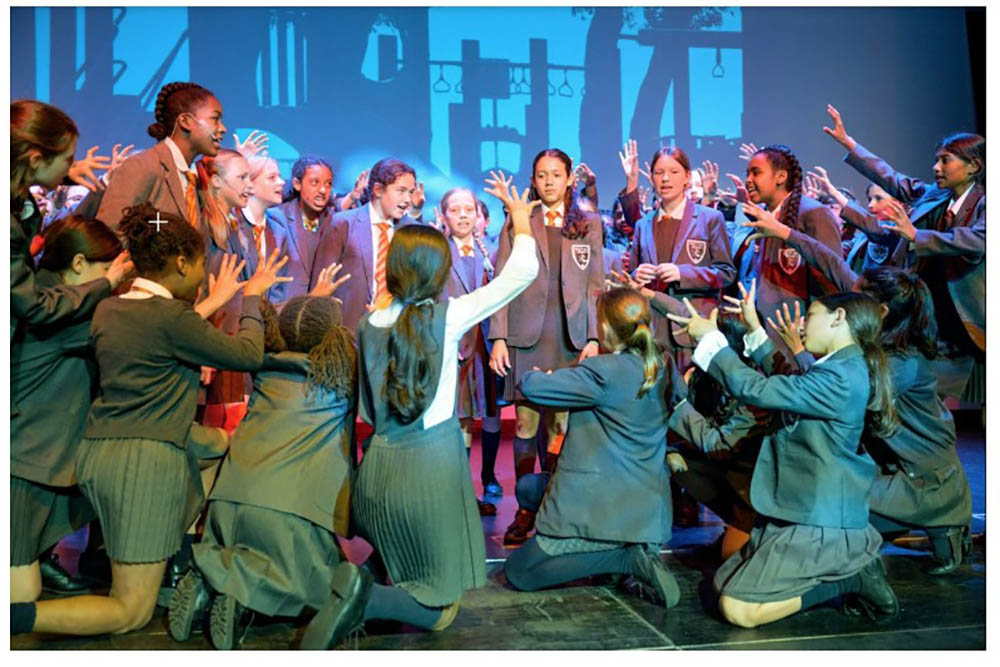 The story of an extraordinary girl who, armed with a vivid imagination and a sharp mind, dares to take a stand and change her own destiny.
Roald Dahl's Matilda The Musical
Large cast catered for 50+
Back in the mid 80's, the unfathomably creative and often rather twisted mind of Ronald Dahl's produced a story that cemented itself so solidly in the psyche of young children the world over that upon publishing the book became an immediate bestseller, then a generation later the film became an instant classic, and then another generation later the musical, adapted by Dennis Kelly and Tim Minchin, became a sheer global sensation.
We are of course talking about Matilda; the pint-sized force of nature who teaches us among many things, that youth can indeed see the many horrid failings in adults clear as day, that even the smallest bits of goodness can truly overwhelm the largest of bullies, and that if you set your mind to something, you can damn well achieve it and nobody can tell you otherwise!
Matilda is a little girl with astonishing wit, intelligence and psychokinetic powers. She's unloved by her cruel parents but impresses her schoolteacher, the highly loveable Miss Honey. Over the course of her first term at school, Matilda and Miss Honey have a profound effect on each other's lives, as Miss Honey begins to not only recognize but also appreciate Matilda's extraordinary personality. Matilda's school life isn't completely smooth sailing however - the school's mean headmistress Miss Trunchbull hates children and just loves thinking up new punishments for those who don't abide by her rules. But Matilda has courage and cleverness in equal amounts, and could be the school pupils' saving grace!
Packed with high-energy dance numbers, catchy songs, and an unforgettable star turn for a young actress, Matilda is a joyous girl power romp. Children and adults alike will be thrilled and delighted by the story of the special little girl with an extraordinary imagination.
Throw that whole story through the filter of Tim Minchin's musical mind and you get a match made in heaven. The musical embraces every theme laid out by Dahl and takes it further, deeper, and sets an even greater foundation in the minds of the next generation to enjoy this tale for the ages.
"We are revolting children, living in revolting times" Is not just an anthem for the angst-ridden youth of today. Every adult with a modicum of self-awareness leaves realising they were once those children too, either while reading the book or watching the film in their own youth, and they think upon the cycle of life, and wonder, have I done enough to make the world for my children a little less….

… REVOLTING!!
This page is under construction more pictures to come soon
.
Matilda The Musical JR Costume Hire
Directors Notes
Roald Dahl's 1988 Children's Novel Matild
Musical
NUMBER OF ACTS
1
GENRES
Dark Comedy
SETTINGS
Multiple Settings
TIME & PLACE
England, Present
CAST SIZE
Large
ORCHESTRA SIZE
Recording
DANCING
Heavy
LICENSOR
Music Theatre International
IDEAL FOR
Diverse Cast, Any school, Ensemble Cast, Large Cast, Middle School, Star Vehicle Female, Theatre For Young Audiences (TYA)
CASTING NOTES
Mostly Female Cast
Includes Child, Early Teen, Late Teen, Adult Characters
TAGS
Books Children Children In Cast British School Parents Kids Child Roles Book Smart Star Vehicle (Female) Students Teacher Fantasy
Original text for Matilda the musical costume hire
©
Callum Blake 2021
About us and what to expect from Thespis
Ot

her complete shows that we offer