Mary Poppins jr Costumes
All new for the 2023 season.
The complete costume set for Mary Poppins Musical
School Edition.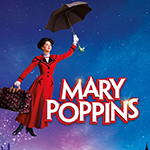 Page under construction pictures to come 2023.
Contact us for more information on this exciting new costume set from our studios for 2023 season.
Mary Poppins (JUNIOR) - Costume hire
One of the most popular Disney movies of all time is capturing hearts in a whole new way: as a practically perfect musical! Based on the books by P.L. Travers and the classic Walt Disney film, Disney and Cameron Mackintosh's MARY POPPINS.
The stage adaption is not a replica of the film, but an original musical that honour's some of it greatest achievement's and most beloved moments.
The jack-of-all trades, Bert, introduces us to England in 1910 and the troubled Banks family. Young Jane and Michael have sent many a nanny packing before Mary Poppins arrives on their doorstep. Using a combination of magic and common sense, she must teach the family members how to value each other again. Mary Poppins takes the children on many magical and memorable adventures, but Jane and Michael aren't the only ones upon whom she has a profound effect. Even grown-ups can learn a lesson or two from the nanny who advises that "Anything can happen if you let it."
Disney and Cameron Mackintosh's Mary Poppins JR. is an enchanting mixture of irresistible story, unforgettable songs and breath taking dance numbers. This show is a perfect opportunity to showcase a strong, iconic female performer, as well as unique special effects and illusions.
Its large cast size and upbeat numbers make it the ideal show for middle and high school.
ONLY AVAILABLE TO SCHOOLS FOLLOWING THE NATIONAL CURRICULUM WHO ARE PERFORMING ON THEIR OWN SCHOOL PREMISES (UNFORTUNATELY WE CANNOT LICENSE STAGE SCHOOLS / YOUTH GROUPS / AMATEUR SOCIETIES AT THIS TIME).
These will be some of the best costumes for hire on the market. We do not compromise on costumes neither should you! drop us a line or call to discuss your next show.
"Professional Costumes For Amateur Productions"


We have no published price list as our shows are tailored to each individual collaboration. But don't let that put you off, our professional service team always aims to accommodate.
About us and what to expect from Thespis
All of our costumes are bar-coded and come with data sheets for easy identification, they also come supplied on hangers in named garment bags saving you hours of unnecessary sorting.
We supply all items as complete costumes and marked up for the correct actors and scenes, we also adjust the garments to the correct size for each actor where applicable leaving you to concentrate on the performance.. We may hire individual costumes but we do have a minimum hire charge of £250 + Vat
Other full shows that we costume