Jesus Christ Super Star

Costumes
All new for the 2023 season.
The complete costume set for Jesus Christ Super Star original style based on the film version.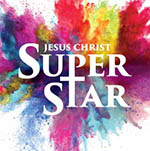 Page under construction pictures to come.
Contact us for more information on this exciting new costume set from our studios for 2023 season.
Jesus Christ Super Star Musical Costume hire


Jesus Christ Superstar is a sung-through rock opera with music by Andrew Lloyd Webber and lyrics by Tim Rice. Loosely based on the Gospels' accounts of the Passion, the work interprets the psychology of Jesus and other characters, with much of the plot centered on Judas, who is dissatisfied with the direction in which Jesus is steering his disciples. Contemporary attitudes, sensibilities and slang pervade the rock opera's lyrics, and ironic allusions to modern life are scattered throughout the depiction of political events. Stage and film productions accordingly contain many intentional anachronisms.

Its medium to large cast size and upbeat numbers make it the ideal show for senior school productions or the highlight of any mainline theatre's season!
We do not compromise on costumes neither should you! drop us a line or call to discuss your next show.
" Professional Costumes For Amateur Productions"


We have no published price list as our shows are tailored to each individual collaboration. But don't let that put you off, our professional service team always aims to accommodate.
Original text for Jesus Christ Super Star costume hire © Callum Blake 2023
About us and what to expect from Thespis
All of our costumes are bar-coded and come with data sheets for easy identification, they also come supplied on hangers in named garment bags saving you hours of unnecessary sorting.
We supply all items as complete costumes and marked up for the correct actors and scenes, we also adjust the garments to the correct size for each actor where applicable leaving you to concentrate on the performance..
Other full shows that we costume