FAR FROM THE
MADDING
CROWD
Hire this new costume set released for the 2020 season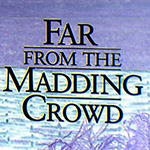 Strong and gripping melodrama, themes of love, honour and betrayal, against a backdrop of the seemingly idyllic, but often harsh, realities of a farming community in Victorian England.
With numerous film adaptations, a radio play, stage versions and even a comic book, it's fair to say that Thomas Hardy's 'Far from the Madding Crowd' is without a doubt a classic for the ages.
Centring around a re-imagined Southwest of Victorian England in what has become affectionately known as 'Thomas Hardy's Wessex', the story follows the life and heartache of arriving beauty Bathsheba Everdene, and the various twists and turns to win her heart made by three suitors; Gabriel Oak the young, hardworking shepherd, William Boldwood the affluent farmer and landowner, and lastly the daring, brash Sergeant Francis Troy, a returning soldier.
Over the course of the frenetic story their lives become tangled up with one another and they must quickly learn to deal with the brutal & crippling hardships of life, to be careful when dealing with the hearts of others, and the value of ones own honour and thirst for independence. But only one can take Bathsheba's hand in marriage. Who will it be?
Far from the Madding Crowd was adapted by Matthew White @ Curtis Brown from the novel by Thomas Hardy
Original text for Far From The Madding Crowd costume hire © Callum Blake@Curtis Brown 2021
Cast size 3F / 5M
Duration 120 min
Audience Appropriate for all ages
Cast Attributes: Non-Traditional casting / Reduced casting (Doubling Possible) / Flexible casting / Strong Role for Leading Woman (Lead)
You can be sure when hiring from Thespis Theatrical Costumiers that you will look truly amazing in any of the "Far From The Madding Crowd" costumes from our studio reflecting the Victorian period as accurately as possible .
About us and what to expect from Thespis
Ot

her complete shows that we offer