Daisy Pulls it off
New costume set for the 2021 season restart.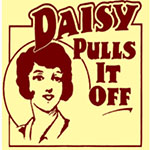 It is a parody of wholesome adventure stories about life in a 1920s girls' English boarding school.
Daisy Pulls it off by Denise Deegan is a quintessential "new-girl-in-town" story rolled up into a schooldays comedy. With a cast of characters you cant help but grow to love by the end, it has everything that makes a classic family show. Centring around the well-to-do Greenwood school for girls, the story starts with the arrival of new girl "Daisy Meredith", Greenwood's first scholarship student, and subsequently the first and only girl from an underprivileged background. All the other well-off girls don't take kindly to her lack of wealth and Daisy is judged prejudicially, shunned, & forced to deal with their pranks and attempts to make her appear genuinely rotten in the eyes of Miss Gibson. However Miss Gibson and Greenwood School have far greater concerns, a rather dire financial situation. So Daisy and her closest friend, the wild-child Trixie take it upon themselves to save the school by searching for the hidden treasure somewhere on the school grounds, and along the way Daisy finds more than just the money. And their lives are changed forever...
Based on the 1939 novel the Testing of Tansy by Winifred Norling, Daisy Pulls it Off is nothing short of the perfect show for schools to stage to genuinely entertain parents and children alike; they'll be thrilled, moved, and glad they came to spend an evening at the Greenwood School for Girls
Original text for Daisy Pulls it off costume hire
©
Callum Blake 2021
The production won an Olivier Award and the Drama Theatre Award for Best Comedy. Kate Buffery was nominated for an Olivier as Best Supporting Actress.
Contact us for more information on this exciting new costume set for "Daisy Pulls it off" coming from our studios this July.
Pictures late July 2021
About us and what to expect from Thespis
Ot

her complete shows that we offer