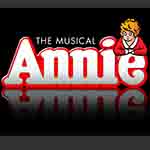 Principals
Oliver "Daddy" Warbucks
Annie
Grace Farrell
Daniel "Rooster" Hannigan
Miss Agatha Hannigan
Lily St. Regis
Franklin D. Roosevelt
Molly
Pepper
Duffy
July
Tessie
Kate
Louis Brandeis
Bert Healy
The Boylan Sisters
Drake
Lt. Ward
Sandy
Harold Ickes
Get your license from josef-weinberger
Annie Costume Hire Musical
Our Annie costumes have all been selected to match the period. The orphans really look as if their clothes are third generation hand me downs and muted earthy colours are used to reflect this. This is in contrast to the staff at the Warbuck's mansion who relay the smart sophistication of the day .
Furs and period suits make the illusion come to life.
Annie is a Broadway musical based upon the popular Harold Gray comic strip "little Orphan Annie", with music by Charles Strouse and lyrics by Martin Charnin.
Click on image for gallery and see extra photos in right hand side gallery.
Set in December 1933 on the lower East Side New York during the Great Depression ,eleven year old Annie is in the Municipal Girls Orphanage , along with Molly ( age 6), Kate ( age 7), Tessie ( age 10), Pepper ( age 12), July and Duffy ( both 13).Annie is forced to live a life of misery and torment at the hands of Miss Agatha Hannigan.She escapes and befriends a mongrel dog and names him Sandy.However , the police pick her up and return her to the care of Miss Hannigan .Her seemingly hopeless situation changes dramatically when she is selected by Grace Farrell, secretary to the wealthy munitions industrialist Mr Oliver Warbucks to spend a short time at his residence for Christmas. Quickly , she charms the hearts of the household staff and even the seemingly cold-hearted Warbucks cannot help but learn to love this wonderful girl.He decides to help Annie find her long lost parents by offering a reward if they would come to him and prove their identity.However , Miss Hannigan , her evil brother , Rooster, and a female accomplice , plan to impersonate those people to get he reward for themselves which puts Annie in great danger.They hatch a plot to kidnap Annie and take the $50,000 reward. But don't fret ! This classic family musical has a happy ending for Annie, Daddy Warbucks and the whole gang.
About us and what to expect from Thespis
All of our costumes are bar-coded and come with data sheets for easy identification, they also come supplied on hangers in named garment bags saving you hours of unnecessary sorting.
We supply all items as complete costumes and marked up for the correct actors and scenes, we also adjust the garments to the correct size for each actor where applicable leaving you to concentrate on the performance.. We may hire individual costumes but we do have a minimum hire charge of £250.
ANNIE COSTUME HIRE MUSICAL
Other full shows that we costume